"Give me a gun and point me up a hill, because if he's coming after you, he's coming at me. And I got your back."
— Gretchen Bodinski to Louis Litt
Gretchen Bodinski is an executive assistant at Litt Wheeler Williams Bennett and is Louis Litt's personal legal secretary.
She made her first appearance in "Compensation", the second episode of the fifth season. She was hired after Donna Paulsen left Harvey Specter to work for Louis. She eventually swapped place with Donna after it became evident Mike Ross was facing prison charges. Donna returned to Harvey's desk after this, and Gretchen has since worked for Louis.
History
"I was here for you before. I'm here with you now, whatever you need."
―Gretchen Bodinski to Louis Litt
Gretchen was employed for 24 years as an executive assistant in the in-house legal department of Randell Shone Associates, working in Estate Management and Directive Compliance. She was tasked with providing general legal administrative and secretarial support to solicitors and a legal team, and was also involved in researching legal precedent and investigating facts.
[1]
She was initially chosen as a candidate for Louis Litt, although she was hired by Harvey Specter to replace Donna Paulsen, who had left him for Louis.[2]
Gretchen is seen speaking to Louis throughout the episode. First to find Louis a midwife's class to allow Louis to be present at the childbirth he supposedly was having with Sheila Sazs. At the end of the episode, Louis tells her it was a false positive. Gretchen consoles a distraught Louis after this, with the words "You don't have to be strong for me, Louis.".[3]
Gretchen is seen partially throughout the episode, speaking to Alex Williams. In this episode, she is seen having to get a signature from Louis to prevent Alex from losing a major client. She fails to do so due to an honest mistake and is feeling immensely remorseful about this, showing her dedication for the firm. She offers to Donna to hand in her resignation due to the fact she thought she was no longer a good secretary. Donna persuaded her not to, and she continues to serve the firm.[4]
After Faye Richardson was appointed Special Master of Zane Specter Litt Wheeler Williams, Gretchen informed Alex and Louis that she had worked at Faye's old firm, divulging that Faye was managing partner and her husband was a fellow name partner, and that she had her husband disbarred and his name removed from the firm after discovering he had crossed a line during a case. She later informs Katrina that Louis went bowling with Alex, and also notified Harvey and Donna to head to the IT floor after discovering the row Louis and Faye had about Louis ordering Benjamin to do whatever it took to get rid of Faye, which Benjamin construed as hacking into the Bar.[5]
The next day, Gretchen heads to Donna's office and notifies Harvey and Donna that Faye stripped Louis of his title as managing partner and that they need to go see him. Harvey, however, tells Donna to see Louis alone while he goes to Faye's office to talk to her.
Sometime later, Gretchen is approached by Faye, who asks her to find Donna. Gretchen heads to the restroom, where Donna is applying lipstick, informing her that Faye is looking for her. Donna adds that Faye wishes for her to be her secretary and asks Gretchen to cover for her while she goes out for dinner. Gretchen discloses that she is aware that Donna and Harvey are together and offers to take over Faye's secretarial duties on her behalf. Donna initially refuses, but when Gretchen is adamant on doing so, Donna thanks her and leaves, stating that she owes Gretchen. Louis returns to the firm and is unable to find Gretchen, heading to the associates' kitchen. He comes across Faye, who notifies him that Gretchen is working for her temporarily sine her original candidate, Donna, pawned off the work on Gretchen. Louis then goes to see Gretchen and demands to know Donna's whereabouts; Gretchen explains that her taking over for Donna was voluntary but gives Louis the address to the restaurant Donna is at, warning him to leave them alone and to not call them until the next day.[6]
A week later, Gretchen is still working for Faye. After messing up on which conference room to go to, Louis approaches her and discusses if he can get her back, as Norma's granddaughter is his temp secretary and is incompetent. Gretchen tells Louis that if he wants her back early, he would have to personally ask Faye.
The next night, Faye goes up to Gretchen and asks her if she informed Donna about her personal history regarding her ex-husband, although Gretchen merely asks if Faye had spied on her to find out the truth about Donna and Harvey. Faye adds that it was painful to have the incident with her ex-husband mentioned, and Gretchen replies that it was painful for her to be taken away from Louis and that Donna found it painful to be mistreated. Faye claims she is learning things as well and apologizes, stating that she told Donna she could keep her vote and asks Gretchen whether Louis would prefer hearing it from herself or Gretchen that she could return to being Louis' secretary, and with a smile, Gretchen responds that Louis would like hearing it from Faye.[7]
Trivia
She has a two year gap in her employment history due to taking time off following her husband's death, coupled with having panic attacks.
She was a close friend of Norma, Louis' previous secretary, for 35 years.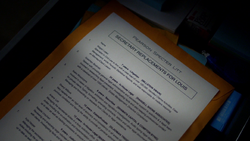 According to the secretary list compiled by Donna Paulsen, she once maintained professional contact in a caseload of over 1000 clients.
Appearances
References
Community content is available under
CC-BY-SA
unless otherwise noted.