Nancy is a former client of Pearson Hardman, who was involved in a sexual harassment claim with her employer, Charles Hunt. Her case was the first Mike was involved in after joining the firm, and together with Harvey, he was able to successfully earn Nancy a large settlement.[1]
History
Two years before meeting Mike, Nancy's husband was killed in a car accident. She subsequently got a job as a secretary at a company called Devlin McGregor, and was later promoted to be secretary to the president of the company, Charles Hunt. Over a period of time, Nancy was asked by Charles to stay late to work, and then one night, her told her that if she slept with him, he would take care of her in the firm, and if she didn't she would be fired. Nancy went to Human Resources and informed them of the situation, but their investigation failed to find anything to support Nancy's claim. She was then fired two months later for "poor job performance".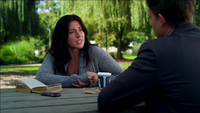 Nancy filed a sexual harassment claim against Charles Hunt, and her case was subsequently taken by Mike as his first assignment for Pearson Hardman. Nancy was visited by Mike, and relayed to him the details surrounding her claim. She asked Mike to help her, and he happily agreed to do so.
After digging into Nancy's case, Mike discovered that Devlin McGregor was attempting to hide information surrounding the dismissal of a former employee by the name of Joanna Webster. He went to see Nancy to ask her if she knew the woman, but Nancy couldn't help him. After Mike informed Nancy that Joanna had potentially been harassed by Charles Hunt in much the same way that Nancy had, Nancy implored Mike to find her and make her come forward with what had happened to her.
Nancy's case was successfully won after Mike and Harvey discovered that the woman, Joanna Webster, was in fact a plant designed to throw them off. Mike used the information to coerce Charles Hunt into settling, which included getting Nancy her job back and a fund for her son's future education. Nancy was left ecstatic at the settlement, and thanked Mike for all his help.
Appearances
Season 1
References