Pearson Darby Specter LLP was a major law firm headquartered in New York and London, created by renaming Pearson Darby upon Harvey Specter's promotion to name partner. Its existence was very brief, however, as Edward Darby was ousted shortly after the firm was renamed, and thus the merger with Darby International was dissolved, leading the New York office to be renamed as Pearson Specter.
History
It was formed by a merger of Pearson Hardman and Darby International, with Harvey Specter later being added as a name partner by Jessica Pearson.[1] Harvey was always against the merger and he tried to do several things in order to stop it from occurring. He even attempted to take the position of Managing Partner away from Jessica by making a deal with Darby if he won a case that was personally assigned to him. If he won the case then Darby would back him as Managing Partner. Harvey stopped the deal as soon as Jessica made him a Name Partner and he told her about the deal.
The name of the firm, once again, has changed with the departure of Edward Darby and the dissolution of his firm, being renamed as Pearson Specter, and is currently known as Zane Specter Litt Wheeler Williams.
Notable Members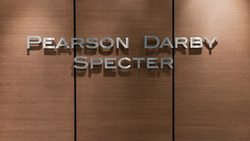 Partners
Senior Partners
Edward Darby (51% control; co-managing partner, name partner)
Jessica Pearson (49% control; co-managing partner, name partner)
Harvey Specter (name partner)
Watson
Kleinman
Pemberton
Yates
Cowen
Dufner
Ramirez
Sidney Thomas
Robinson
Jenkins
Gardner
Gallo
Goldberg
Junior Partners
Associates
Senior Associates
Junior Associates
Paralegals
Assistants
IT
References
Community content is available under
CC-BY-SA
unless otherwise noted.