House of the Dragon Trailer - The Loop
Play Sound
"So you always said that if I'm in a knife fight and I'm losing, to pick up a gun. And Pearson Specter Litt is a goddamn gun."
— Mike Ross to Harvey Specter
Pearson Specter Litt LLC (also known as PSL) was a major law firm headquartered in New York, formed after Louis Litt used Mike Ross' secret to leverage himself as a name partner. The name partners other than Louis were Jessica Pearson and Harvey Specter. Despite the name change, many clients, opponents and even employees themselves continued to refer to the firm as Pearson Specter.
Following Mike Ross' guilty plea, nearly all the employees left the firm, leaving just Jessica, Harvey, Louis, Donna Paulsen, Rachel Zane, Gretchen Bodinski and Benjamin. Shortly after saving a man from death row, Jessica realized that she had forgotten why she became a lawyer in the first place and decides to step down, leaving the firm to Harvey and Louis.
Harvey then assumes the position of managing partner and rehires Mike while promoting Donna from executive assistant to senior partner, although he is made to realize that partnership is a title that should not be given to non-lawyers and instead makes her the firm's new COO. Following Jessica's departure, the firm kept its name for a while before dissolving and restructuring as Specter Litt.
History
To be added
Known Members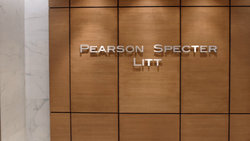 Partners
Senior Partners
Jessica Pearson (name partner, former managing partner)
Harvey Specter (name partner, managing partner)
Louis Litt (name partner, former managing partner)
Donna Paulsen (briefly; unofficially)
Jeff Malone (formerly; resigned)
Jack Soloff (formerly; resigned)
Paul Porter (formerly; resigned)
Watson (formerly; resigned)
Kleinmen (formerly; resigned)
Pemberton (formerly; resigned)
Yates (formerly; resigned)
Cowen (formerly; resigned)
Dufner (formerly; resigned)
Ramirez (formerly; resigned)
Sidney Thomas (formerly; resigned)
Robinson (formerly; resigned)
Jenkins (formerly; resigned)
Gardner (formerly; resigned)
Gallow (formerly; resigned)
Goldberg (formerly; resigned)
Junior Partners
Chief Operating Officer
Associates
Senior Associates
Junior Associates
Part-Time/Summer Associates
Executive Assistants/Secretaries
Donna Paulsen (formerly; officially promoted to COO)
Norma (formerly; deceased)