"
Harvey: Look. I know we had an arrangement, but I came here to change it.
Darby: Change it? But you might not even win. I've just heard about this new special prosecutor.
Harvey: Relax. The case was always going to be hard. It just got a little harder.
Darby: Because you made it that way.
Harvey: That's my problem.
Darby: And now, you're using that increased difficulty to renegotiate our deal.
Harvey: That's your problem. We both know how important Ava is to you.
Darby: What do you want?
Harvey: I don't want to run from a fight.
Darby: Meaning?
Harvey: I win, you don't fire me. You back me for Managing Partner.
Darby: You want to take down Jessica?
Harvey: Yes. I do.
"
The Arrangement is the first episode of the third season of Suits, and the 29th overall. It first aired on July 16, 2013.
Overview
Jessica's new partnership is tested; Harvey must prove a high-profile client's innocence; Mike tries to manage the fallout from his revelation.
Plot
To be added.
Cast
Main Cast
Recurring Cast
Guest Cast
Major/Highlighted Events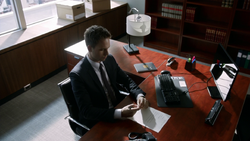 Cultural References
Trivia
Quotes
Mike:
I need to talk to you.
Jessica:
You want to talk about how things played out. But the place to do that is somewhere more private.
[presents him with his own office]
You didn't just come through on the merger. You bluffed
Hardman
, turned
Monica Eton
and put us over the top on Folsom Foods. That's a lot of coming through in the clutch. And I wouldn't have saved your ass if I didn't think you deserved to be here.
Mike:
I don't know what to say.
Jessica:
Well, the usual response is "Thank you".
Mike:
The usual road to getting here doesn't involve stabbing someone in the back.
Jessica:
Doesn't it? When I was 16, I came home, my mother sat me down, and said my parents were separating. Trial basis. But the good news was, she was going to get me a car to help with my sister. All my friends talked about how lucky I was to have it. I hated that car. Every time I got in it, I... Well, it just reminded me.
Mike:
Why are you telling me this?
Jessica:
Because five years later, that same car got me to Harvard, which led me here. So, you can think of this office as a reminder of what you did to Harvey, or as a symbol of what you can accomplish at the firm. Now. Do you still have something to say?
Mike:
No. No, I don't.
[pause]
They ever get back together?
Jessica:
No. No, they didn't.
Gallery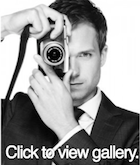 Community content is available under
CC-BY-SA
unless otherwise noted.