Spider-Man: No Way Home Trailer Dropped - The Loop
Play Sound
"
Darby: I'll simply do what I've done to so many before. I'll defeat you in open court.
Harvey: The way I work, it's never going to get to open court. You'll be on your steamer back to London wondering what happened, and you'll know that you picked a fight with the wrong guy.
Darby: Are you suggesting a wager?
Harvey: I'm not a gambler, but in this case, I'll make an exception. You lose, we don't merge.
"
War is the sixteenth and final episode of the second season of Suits and the 28th overall. It first aired on February 21, 2013.
Synopsis
Harvey's vision for the future of Pearson Hardman clashes with Jessica's when a British firm offers a tempting proposition, leaving them both to make up their minds on what direction to take with their careers. A confession from Mike sets his and Rachel's relationship upon a new path.
Plot
To be added.
Cast
Main Cast
Guest Cast
Major/Highlighted Events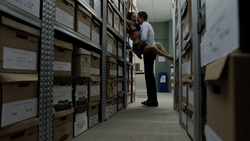 Pearson Hardman successfully merges with Darby International; Scottie is fired for leaking information to Mike, although Harvey convinces Darby to rehire her, reminding him that the merger would not have occurred if she hadn't proposed their union in the first place.
Mike is ambushed in the file room by Rachel Zane, who asks why he did not submit a letter to Harvard on her behalf. Mike reveals that he is a fraud who never went to Harvard, and the pair end up having sex in the file room.
Cultural References
Trivia
Goddamn Counter: 4
Harvey reveals that nine months has passed since "Blood in the Water".
Louis refers to Nigel as Prince Charles; Prince Charles would later become Meghan Markle's father-in-law.
It is revealed that Mike beat Jessica during their legal knowledge quiz featured in the season premiere. ("She Knows").
Louis' middle name is revealed to be Marlowe.
Like the previous season finale, this episode ends with someone being informed of Mike's secret.
Quotes
Mike:
Okay, look, Harvey–
Harvey:
Shut your mouth! I risked everything for you. Then I did it again. And again.
Mike:
Wait, you weren't there.
Harvey:
I didn't have to be.
Mike:
Jessica–
Harvey:
You don't work for Jessica! You work for me.
Mike:
I know I do, but I was just trying to get you what you wanted. Your name on the door.
Harvey:
No, you got
Edward Darby
's name on the door. My part of the deal is gone.
Mike:
What? You never told me that!
Harvey:
I didn't think I needed to tell you that because I didn't think you would ever betray me.
Gallery